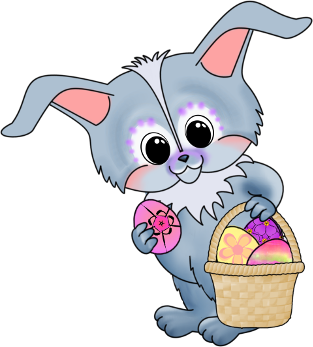 You have -38 size 10 poses.
You have -38 full size poses.

You have -38 size 10 poses.
You have -38 full size poses.

You have -38 size 10 poses.
You have -38 full size poses.

Eggstravagant Easter Bunny
Little is known about Eggstravagant Easter Bunny's annual calendar because all the emphasis is placed on the one glorious day when he delivers baskets of coloured eggs and chocolate candies to grateful children around the world. Without question, Easter Sunday is an important day for the famous rabbit; but, in truth, it is only one day in his rich and variegated life.

After the busy Easter season, Eggstravagant Easter Bunny takes a much deserved holiday to recover from his light-speed global egg delivery, which is unimaginably exhausting. This year's post-Easter trip will be a luxury river cruise where his primary occupations will be taking spa treatments, sitting on his balcony, sipping Hippity Hoppers, and watching the riparian landscapes drift by. Aaaaaah!

During the late spring and summer months, Eggstravagant Easter Bunny devotes himself to architectural design, a diversification enterprise that allows him to use his artistic talents on a larger scale. His signature style is curvilinear buildings with brightly coloured exteriors. He has designed a planetarium, numerous swimming pools, and a city hall; but his pride and joy is Eggsecutive Heights, a new land development of eco-friendly acreages.

Autumn is Eggstravagant Easter Bunny's agricultural season. In September and October, he breeds new varieties of eggs in his greenhouse. The prize plants of his 2016 collection are the hybrid rainbow, aubergine, and fuschia egg blossoms. November marks the beginning of cultivation season at East Egg Farm. The egg blossoms ripen in February at which time Eggstravagant Easter Bunny employs egg pickers and oversees the collection and sorting of eggs. He also relishes his time in the egg fields, so he ensures that his premium eggs are reserved for him to pick.

Eggstravagant Easter Bunny will always find fulfillment in the annual egg delivery, but his architectural and agricultural interests are taking up more and more of his time and creative energy. Who knows? Maybe future generations will find blueprints and seed packets in their Easter baskets. Hopefully, they will appreciate these precious gifts.
Find Food
Your pet becomes an expert at finding its own food!
Long hop
The Long Hop was invented by a very wise old rabbit, thinking to add variety to the daily lives of rabbits and hares across the land, whose whole lives seemed to revolve around eating and procreating, and not necessarily in that order!

To some extent, this was successful, as the Long Hop has been added to the bunnygarten curriculum for all young lagomorphs, many of whom also apply their long hopping skills to escape capture while raiding vegetable patches in PnF!
Favorite food:

Bunch Of Leaves
See below for your free foods!