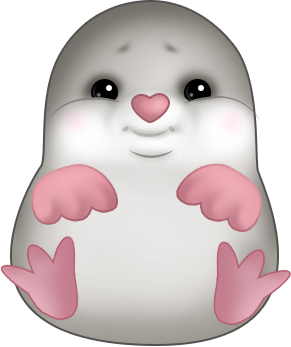 One size 10 copy of this pose is free when you adopt this as your FIRST pet. After adopting your first pet, other pets require you to own three poses in size 10 or larger before you can adopt them. You can buy more in the Mall, or receive this pose through gifts or trades.
You have -38 size 10 poses.
You have -38 FULL SIZE poses.
One pose could be locked on adoption.


You have -38 size 10 poses.
You have -38 FULL SIZE poses.
One pose could be locked on adoption.

Silver Mole
Hi there! I'm new in town. I am still learning my way around this place. I am hoping to meet my cousin Golden Mole. Do you happen to know where they live? It must be around somewhere. It has to be. I'd really like to play and explore but right now as you can see I am quite comfy. All I need is a mug of hot tea and some crumpets and I could be stuck here forever.

Oh me oh my! I just realized they captured my image for the ever so popular SM coin. That silly photographer though did not give me a chance to pose and now I am left wondering, did they capture my best side? What if I had turned just a little? Or smiled a little bit more? But now, oh dear, it is caught there for eternity! Whatever shall I do? Think, think, think. Oh my poor brain hurts. Pass the tea would you mind?

Must find a cozy warm hole to climb into and go to bed. Oh so very tired. It is all I can do to move. It has been a long day exploring my new surroundings and drinking tea while eating crumpets. I know I must move but…..CRASH!
Opal Tossing
As long as there have been moles, there have been opal miners (opals being their chief goal, but by no means their only one).

Each mole community has their specialty, of course, and the town of Molington was certainly no exception. As neighboring mole communities usually specialized in such pursuits as worm digging and tunnel building (a skill quite different from opal mining, as any mole can tell you that has had the unpleasant experience of dwelling very long in an abandoned opal mine) the citizens of Molington seldom saw the need to train their pups in any other pursuit besides mining the rare and beautiful opals that were hidden beneath the rich countryside they called home. All other tasks were happily taken on by their neighbors, who were quite willing to trade their hard work for the beautiful opals of Molington.

As the mines of Molington became deeper and deeper, the task of transporting their finds to the surface became more challenging. Each mole took great pride in their daily tally of opals found (and every mole could identify every opal they had ever found, even years later). Transporting them became a matter of passing them up to the surface, mole to mole. As each mole hated to quit until absolutely necessary, they began tossing them so that less moles were needed to get them to the surface. Soon it became a game to see how far they could get their daily bounty, and to increase their skill in this, they began holding yearly contests. Moles from miles around would come and compete for the title of Champion Opal Tosser.
Find Food
Your pet becomes an expert at finding its own food!
Favorite food:

Open Can Of Worms
See below for your free gifts!