Your guide to
The Pets 'n' Friends Shopping Center!
The Mall
Bursting at the seams with vital items, from abandoned mansions to yellow tulips! This is where you get to buy most things from the game, or from other users. Lots of useful search features! To search popular topics, click the icon above.

'On sale' items are in limitless supply. Antiques will never be sold again, and can only be bought from other users. Seasonal items can be bought and sold or won at various times. Click one of the icons below to see what's on offer!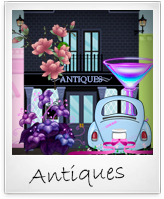 Currency Advice
PnF has several currencies, and each has its own role. Which is which? To find out, just click the coin in the toolbar!
Frank's Fantastic Foods
Feeding other pets is a fast way to earn Frank 'n' Cents, the only currency that spins the fruit machine. You can go hunt for food using the Food Skill - but after hunting for food all day, you may still not have all the food you need to feed your friends' pets. To get more, visit Frank the Pig. He's been selling food ever since he found out how good he tastes to so many other pets! The way for him to stay off the menu is to sell food faster than he can run!
The Swap Shop
Some of our games give you rewards in small sizes. Foods, drinks, gems and some decorations can be swapped for larger sizes! That's what the Swap Shop is for.
The Décor Center
Feeling blue about that blue page? Want to know how your friends got such a crazy look to their page? Visit the Décor Center! Home of a look for every occasion, from the mundane to the magical and twice round the world on the way!
Gold (Buy currencies)
All about our premium currencies, and what you can use them for. Plus Donor Reward pets! Facebook users may need to check with the Pets 'n' Friends Facebook Group for latest details of using Facebook credits.
Gift Bombs
Buy lots of things with a single purchase! Adoptable pets, unique scenes, Fonts, Seasonal decorations, there are all kinds of special offers here!
Escrow
Here you can check what happened to the things you put on sale, or change your mind and withdraw them.