MARCH 2020 SPECIAL OFFER!
ALL PAYMENTS COUNT DOUBLE!
During March 2020, all payments (except for gift boxes) will receive DOUBLE rewards. For example, if you send $30.02, it will be treated as $60.04. You will get:
- 400 GM, 200k FnC, 12 PP, one full size and 1 size 10 donor reward
instead of
- 200 GM, 100k FnC, 6 PP, one size 10 and one size 7 donor reward.
Enjoy! It lasts the whole month!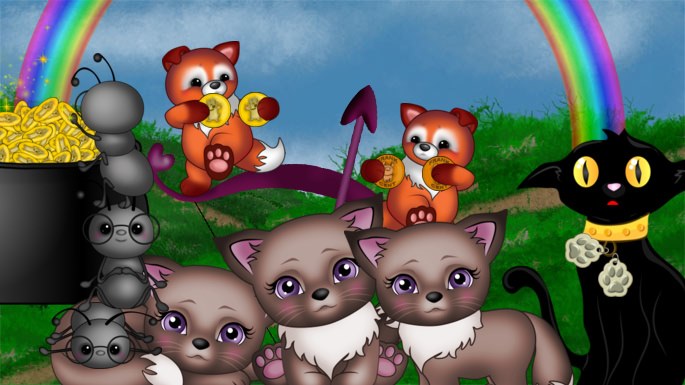 Golden Moles, Frank 'n' Cents and Platinum Paws!
Golden Moles (GMs) are the premium currency of "Pets 'n' Friends". Frank 'n' Cents are a special currency with which to play our fruit machine. Buy them using PayPal! Just click the "Buy Now" button, below. If you are not used to Paypal, "How to get Golden Moles", a document in our Facebook group, may help you. If you want to set up a monthly payment to us, this is how!


THIS MONTH you can buy 400 Golden Moles for $10
OR
100,000 Frank 'n' Cents for $10.01!

In either case we will send FOUR FREE 'Platinum Paws' for every $10 spent!
Platinum Paws are required to buy our 'bonus' pets.


GOLDEN
MOLE

MARCH
BONUS!

MARCH
BONUS!
FRANK
'N' CENT
PLATINUM
PAW
Donor Rewards!
With your March payment you will get an additional bonus - Archer Fox!
In March 2020 if you pay $25 you will get one FULL SIZE and one size 7!


Size: Full
Free with: $20



Size: 10
Free with: $10



Size: 7
Free with: $5



Size: 4
Free with: $2.50


Archer Fox
Pulling back, taking aim, and letting go. It all sounds so simple and yet the skill this fox has built over years of practise is truly amazing. They could spear an apple off Bob's head from 50 paces away except Bob is a little scared. Channelling his inner Scaredy Cat apparently. Then again, perhaps that is wise given the changing winds. Just breathe. Just focus. Pull back and release.
You can also ask for golden moles and platinum paws
using your wish list! Just click the icon:
Scaredy Cat meets new pets!
Brown Fox (Standing)
Now I do like this angle when looking in the mirror. I would have to be the cutest, most dazzling brown fox of all time. I have everything that makes me attractive. Soft silky fur, the most amazing creamy tip on my tail and I wear a cream coloured cape around my neck. If that is not enough to make you want to take me home and cuddle me, then look into my big bright eyes and you will be spell bound.

Astonishing Helper Ant (Daydreaming)
While I love being an Astonishing Helper, my real passion lies in management. I spend my evenings staring at the stars dreaming of growing my business - running a team of Astonishing Helpers to spread their kindness across all of PnF. Pets who can repair anything, bring you food when you're sick, even just keep you company and play games to combat loneliness.






PAYMENT HANDLING

We currently handle payments manually. When we receive a payment, we update your account as soon as we can, subject to staff availability. A tiny golden coin appears in the user's toolbar. Hover this to see your currency balances (Golden Moles, Silver Moles, Frank 'n' Cents and Platinum Paws), or click the coin to see your payment history.

We will move to an integrated payment system as soon as possible. In the meanwhile, if your balance has not been updated after 24 hours, please inquire about the delay in the Pets 'n' Friends Facebook group.